Portrait of Mary Queen of Scots by Fran

çois Clouet
On this day at 8 o'clock 1587 at Fotheringhay Castle 44 year old Mary Queen of Scots was led to her execution. She was richly dressed in a black satin gown, with a crimson bodice trimmed with gold embroidery and sable. On her head she wore a demure lace veil that covered her auburn hair and flowed down to her feet. Careful to promote herself as a devout Catholic she carried an ivory crucifix in one hand and a Latin prayer book in the other.
The image on the left shows the crucifix and cover of the prayer book that Mary carried with her and the image above shows the rosary that hung from her girdle and some of the pages inside of the prayer book.
She kissed her female servants and offered her hand for her male servants to kiss asking them to 'rejoice and pray for her'. She then entered the great hall but had to be assisted on the stairs as her legs were swollen and stiff with rheumatism. At the ante-chamber to the great hall her steward knelt weeping at her feet and weeping herself she told him that he 'ought to rejoice rather than weep for the end of Mary Stuart's troubles is now come'. She went on to ask him to 'tell my friends that I die a true woman to my religion, and like a true Scottish woman and a true French woman'.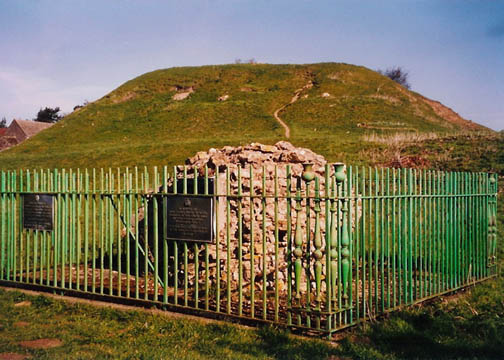 All that remains today of Fotheringhay Castle
Accompanied by two gentlewomen and four of her gentlemen she strode into the great hall, which contained around a hundred spectators, mounted the two foot high scaffold and sat to hear the warrant of execution read out. The Dean of Peterborough Cathedral then began an admonition against Catholicism but the effect was ruined by his nervous stammering and Mary's determined interruptions. He encouraged her to renounce the Catholic faith but she retorted that 'I am settled in the ancient Roman Catholic religion, and mind to spend my blood in defense of it' before ordering the Dean to be silent. He then tried to recite prayers in English but Mary began to pray loudly in Latin brandishing her crucifix and continued to pray even when she slipped off of her stool. She prayed for the Church, for an end to the religious conflicts, for her son, for her son to convert to Catholicism, for Elizabeth I and for herself. She then kissed the crucifix and crossed herself.

Depiction of Mary's execution at Fotheringhay Castle
Her gentlewomen then helped her to remove her clothes down to her petticoat, which was red, the colour of martyrdom in the Roman Catholic Church. The executioner also assisted her and smiling she exclaimed that she 'had never had such grooms before to make her unready' nor had she 'ever put off her clothes before such a company'. She gave the executioner her forgiveness for what he was going to do to her and then knelt on a cushion of black cloth; once kneeling she was blindfolded with a white Corpus Christi cloth. Calmly reciting in Latin the Psalm 'In thee, O Lord, I have put my trust' she reached for the block and laid her head upon it. She then stretched out her arms and repeated the words 'Into your hands O lord I commend my spirit', she did this three or four times before one executioner held her down while the other severed her head with an axe. But the first strike fell on the knot of the blindfold and missed her neck, the second nearly severed her neck but the executioner had to sever the remaining sinews with a third strike. Then she was dead.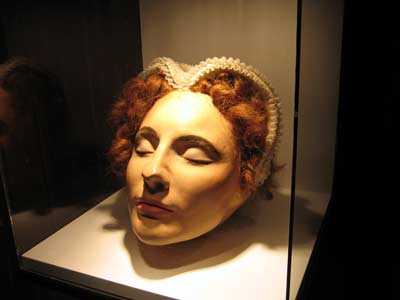 The death mask of Mary Queen of Scots
The executioner held up her head and shouted 'God save the Queen' and to the audience's unease Mary's lips continued to move for fifteen minutes. This unease intensified as the executioner held the head by the cap/hair, but Mary had been wearing a wig so her head dropped to the floor and rolled towards the spectators. It was the final dramatic event of the day.
Her body was later embalmed and interred in Peterborough Cathedral in July 1587, despite Mary's wish to be buried in France. In 1612 during the reign of her son James I and VI her body was exhumed on his orders and re-interred in Westminster Abbey and a grand tomb was built in her memory at a greater cost than the tomb that James had built for Elizabeth I.
Mary's tomb in Westminster Abbey
Sources:
Mary Queen of Scots by Alison Weir
Mary Queen of Scots: My Heart is My Own by John Guy
The Lives of Queens of England by Agnes Strickland
Elizabeth's Spymaster by Robert Hutchinson
The Watchers: A Secret History of the Reign of Elizabeth I by Stephen Alford