Lady Margaret Douglas is often sidelined for the more well-known Tudor cousin, Lady Jane Grey, but Margaret led a fascinating life at the centre of the Tudor court and she was certainly a colourful character. She was prominent in the reigns of Henry VIII, Mary I and Elizabeth I and was imprisoned in the Tower of London on four separate occasions. So who was this remarkable woman?
This is the first of a series of posts on Margaret Douglas and this post is focused on her parents and her turbulent childhood.
Archibald Douglas 6th Earl of Angus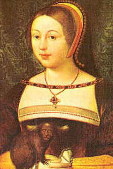 Margaret Tudor Dowager Queen of Scots
Her parents were Margaret Tudor, Henry VIII's elder sister, and Archibald Douglas, Earl of Angus. They married on the 6th August 1514 and it was a love match on Margaret's part but Angus was probably more motivated by Margaret's power, wealth and status. By marrying Angus, Margaret forfeited her right to supervise her sons by her first marriage to James IV of Scotland but she defied this and took her sons to the fortified castle at Stirling. Margaret's power and control over the Scottish Princes was resented by the rival pro-French faction led by John Stewart, Duke of Albany and by August 1515 Albany had set himself up as regent of Scotland and taken custody of the Princes. Margaret was eight months pregnant with Angus' child at this time but the threat to her safety from Albany was greatly increased due to his power as regent so she decided to escape to England where she would be under the protection of her brother, Henry VIII. From Linlithgow Palace she rode around fifty miles at night to the Douglas stronghold of Tantallon Castle and a few days later she continued south with her husband to England whilst being pursued by an army of 40,000 men sent by Albany. Eventually Margaret and Angus reached Harbottle Castle in Northumberland but upon arrival Margaret nearly collapsed and was too ill to be moved.
The ruins of Harbottle Castle where Margaret Douglas was born
It was at Harbottle Castle on the 7th October 1515 that Lady Margaret Douglas was born. She was born prematurely and her mother wrote that her labour had been induced early because 'nigh my deliverance [I] was enforced for fear and jeopardy of my life to go and enter into the realm of England, where eight days after, I was delivered of child fourteen days afore my time to my great spoil and extreme danger'.
Lady Margaret's position was seriously threatened in the 1520s as her mother sought a divorce from her father. Angus had been living openly with a mistress and had seized his wife's dower income so that he could afford a lavish lifestyle for his mistress. Needless to say Margaret Tudor was not happy with this 'arrangement'. She was eventually granted an annulment in March 1527 on the grounds that at the time of the marriage Angus had been precontracted to another lady. And luckily for Margaret Douglas she was not bastardised as at the time of her parents' marriage her mother had not known of the impediment.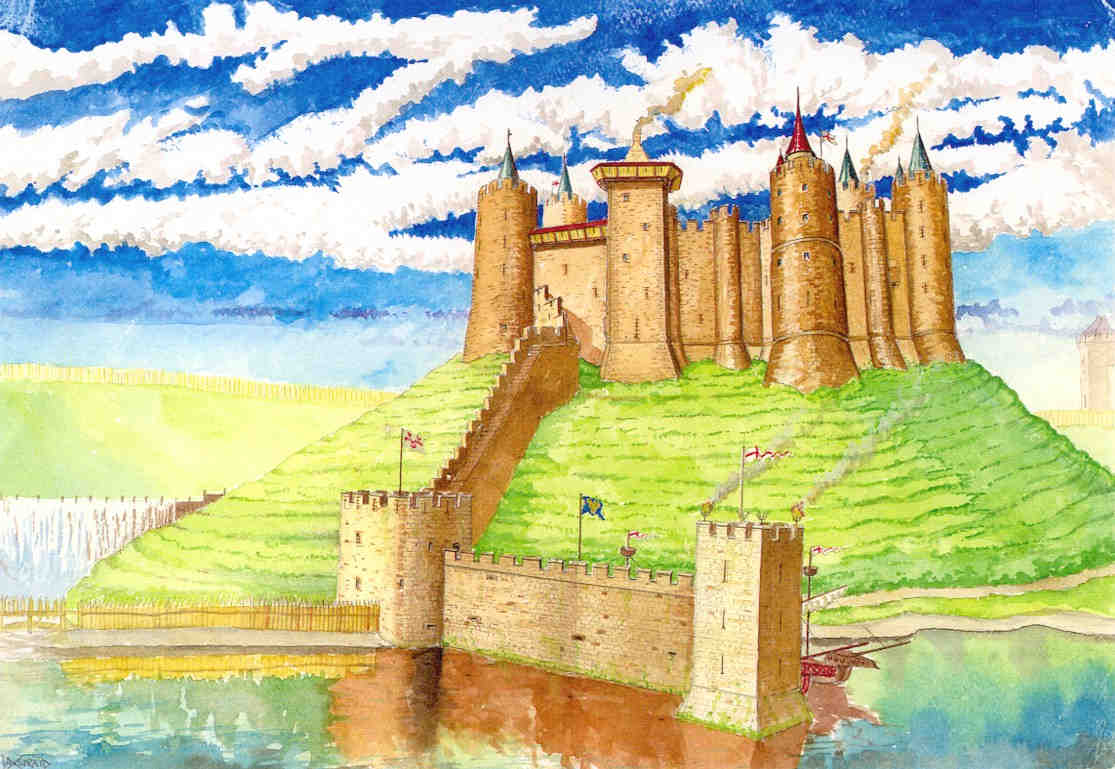 A drawing of how Berwick Castle would have looked in
the 16th century
In 1529 the relationship between Margaret's parents was not good at all, in fact Angus felt so threatened by his ex-wife in Scotland that he kidnapped their daughter and fled to England. At this time Lady Margaret Douglas was just thirteen and her turbulent childhood was certainly not done tossing her in the sea of animosity between her parents. Her father left her with Sir Thomas Strangeways at Berwick Castle and she remained there until the following summer. Her mother made many attempts to get her daughter back and Sir Thomas wrote to Cardinal Wolsey saying that he had to have Margaret closely guarded for fear that 'she would be stolen into Scotland'.
Doting uncle Henry VIII
Henry VIII was very fond of his niece and often called her 'little Margaret' so he arranged for her to join her cousin, Princess Mary's household at Beaulieu Palace in Essex where she was to be chief lady-in-waiting. Margaret was a very outgoing, witty and vivacious girl who came into the Princess Mary's life at a difficult time when Henry VIII was beginning his divorce proceedings against Katherine of Aragon. And perhaps it was this shared experience that brought the girls so close together as they remained close friends from this point to Mary's death 28 years later.
Further Reading:
Sisters to the King by Maria Perry
Mary Tudor: The First Queen by Linda Porter
Memoir of Mary Tudor by Frederic Madden
1536: The Year That Changed Henry VIII bu Suzannah Lipscombe